DIY Arm Knitted Cosy Chunky Blanket step-by-step guide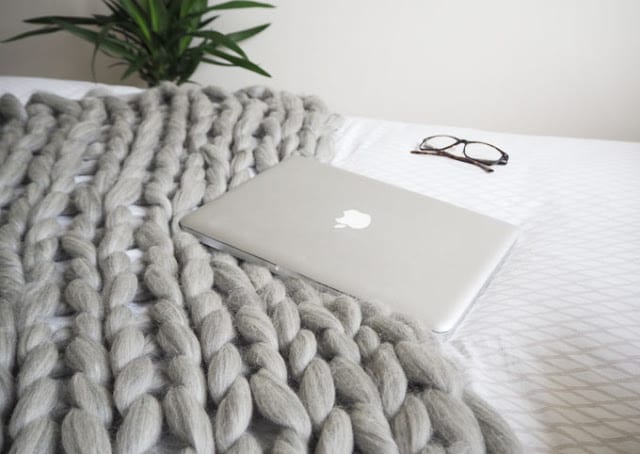 We love this comprehensive step-by-step guide to making a giant knitted blanket - a top favourite with many knitters and crafters. Have a look at our Lulu Blanket DIY kit.

This article was first posted on madeupstyle.com and re-published here with their kind permission, and features our Gentle Giant yarn and step-by-step guide to making a cosy blanket. We hope you find this informative!

Author - Anna from Made Up Style

Who doesn't love cosy nights by the fire, wrapping up warm and frosty walks in the park?! And with it comes the chance to create some seasonal DIY's.
I've been dreaming of oversized blankets for a while now, having been inspired by Pinterest-worthy interiors filled with chunky knitted throws, so I decided to have a go at making my own.

I was really surprised at how quick and easy this DIY was to make and I love the result. If you want to make your own read on to find out how I made my oversized arm knitted blanket…


I found this amazing giant yarn from Wool Couture in a soft grey and bought two balls for £45. I only wanted a medium blanket and was recommended that two would make a blanket around 25 x 50 inches (63x127cm). It is merino wool meaning it is a lot softer and more gentle on your skin than pure wool, which can be a little scratchy. I had never tried arm knitting before but thought I'd give it a go as it creates a lovely open knit, perfect for a chunky throw. Wool Couture threw in a free arm knitting tutorial with my order so I could start straight away when my wool arrived. If you want to try arm knitting follow along with my step by step, all you need is some wool and your very own hands!

Casting on

I started by tying a loop in the end of the yarn and slipping it over my right hand.

1. With the knot under my wrist and palm facing me I laid the yarn from the back of my hand over to the front of my palm.

2. With my left hand I then went through the loop under my wrist, ensuring the yarn nearest the ball was on the right side of my left wrist.

3/4. I grabbed the yarn length and pulled back through the loop my left hand had come through, allowing the loop to slide off my right hand in doing so.


With the loop I has just made I placed over my right wrist to create two stitches. I continued steps 1 to 4 until I had cast on 16 stitches (as this is what Claire from Wool Couture suggested) on my right arm.


First row

1. To create my first row I wrapped my yarn around the front of my right thumb and made a fist to hold the yarn.

2. Taking the next stitch along, (3) I passed this over my fist and the yarn I was holding.

4. I passed the loop that was in my right fist over the left hand to create my first stitch of this row.

I continued steps 1 – 4 on this row until all the loops were on my left arm and I had completed this row.


I continued knitting my blanket repeating the same steps for each row, passing the yarn from left to right and back again until I was coming to the end of my yarn.

Casting off

1. To finish my blanket and cast off I started by grabbing the yarn length in the same fist that has all the stitches on (my right).

2. I made 1 stitch in the same way I had on previous rows.

3. I made a second stitch in the same way I had on previous rows.

4/5. I then passed the first stitch over the top of the second stitch and slid off my left hand leaving one stitch on my left hand.

I then repeated steps 3 – 5 until all stitches where off my right arm and I was left with one loop. To finish I pulled the remaining yarn through the this loop and tied it off.

Top Tip: Leave plenty of yarn before casting off and try to keep the stitches big a loose to avoid making this row too tight.

Arm knitting takes a little getting used to and some fiddling but once I got the hang of it I really enjoyed it. My blanket knitted up really fast and I had finished it within an hour or so. I gave my blanket a little stretch and pull out to make the stitches even, before placing it on my bed. In the end it measured about 40 x 40 inches, a little more than predicted but this was probably as I was arm knitting rather than using needles.


I love how cosy and comfy this throw is, the yarn is super soft and the perfect colour of grey for winter. My spare room is white on white, soft neutrals and copper highlights so I think it will go well in there.
My first go at arm knitting turned out really well and I think it is a great project for beginners wanting to learn to knit or those who want a quick project to get into knitting. Wool Couture have a range of wool for any project but also sell ready-made blankets like mine if you want to buy one already made up.
To watch the video tutorial of how I made this blanket, click here.
I hope you have enjoyed this winter warmer of a tutorial. Have you tried or would you like to try arm knitting?