Entrepreneur founder of Wool Couture ties up Dream Dragon Investment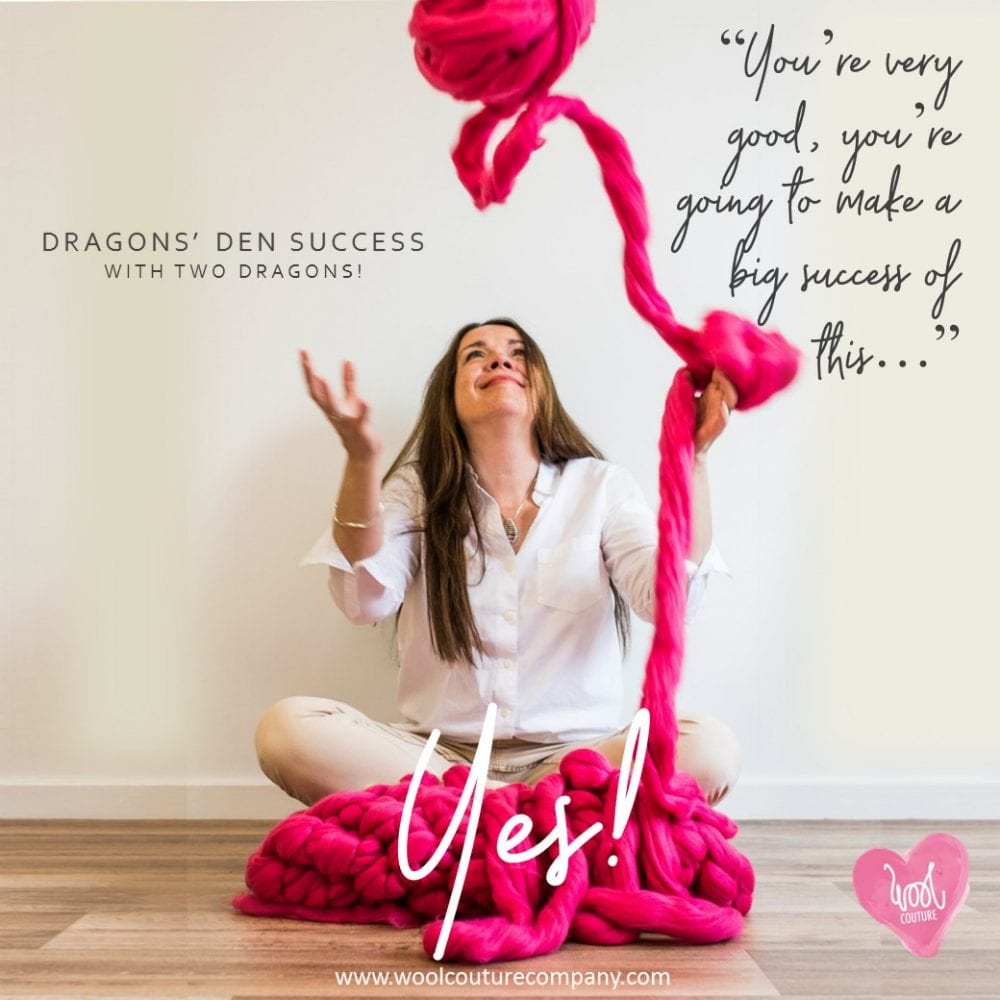 A good yarn leads to great things! Entrepreneur founder of Wool Couture ties up Dream Dragon Investment

It takes more than a good yarn to stitch up a deal with a dragon investor, but entrepreneur founder and owner of artisan woolcraft business Wool Couture, Claire Gelder, has tied up support from two of Britain's leading business tycoons following a successful appearance on the hit BBC TV show, Dragons' Den on 3rd September 2017.

On Sunday evening Claire secured a joint deal with retail magnate Touker Suleyman and new dragon Tej Lalvani, the man behind Britain's most successful vitamins company. The duo have pledged their support to help Claire inspire a new generation to take up the centuries-old pastimes of macramé, knitting, weaving and crochet, giving them a twenty-first century makeover by using giant yarn and metre-long knitting needles which are hand-made in Claire's Yorkshire factory.

Claire, a former NHS Director, launched her business less than two years ago after realising that she had knitted more scarves than she could possibly wear. Determined to share her love of knitting with others, she decided to sell some of her designs on craft website ETSY where she quickly started pulling in orders from the hobby she first fell in love with aged just eight years old.

As her business began to grow, Claire called upon help from Launchpad: a free-to-access business support programme part funded by the European Regional Development Fund which delivers free business advice and support to new business owners and entrepreneurs across the Sheffield City Region.

Working with Launchpad, Claire developed her business ideas further, designing a range of easy-to-follow DIY kits which provide everything needed to create sensational scarves, beautiful blankets and even dog beds.

According to Claire, pitching to the Dragons was one of the most high-pressured days of her business career. However, her hard work and the many weeks of preparation paid off, resulting in offers from her new dragon backers.


Claire Gelder, founder, Wool Couture said:

"I was hopeful of receiving one offer in the den but to receive two, and ultimately two new business partners is a significant step for my business. Touker's extensive knowledge of the retail world, coupled with Tej's understanding of how to build and grow online businesses will help us unleash the potential of Wool Couture, enabling new lines to be developed. Ultimately, I want to encourage more people to take up the hobby which has given me so much pleasure.

"From the outset, I've used my business to help people exercise their creativity, but activities like knitting can also be used to improve mental wellbeing and having Tej on board, with his background in health and wellbeing to explore this opportunity further is a very exciting prospect. The support we've received from Launchpad has helped us lay solid foundations for the business and with the Dragons on board, I'm hopeful that the business will grow rapidly, as we target future international growth, particularly in America and China."

Touker Suleyman said: "Claire presented an excellent, well thought-out pitch during her time in the den and I was thoroughly impressed with the way her passion, knowledge and dedication, runs through every aspect of her business. Her giant wool creations are truly unique and a great example of British innovation which builds on the legacy left by Yorkshire's textile industry. I've spent more than 40 years working in the clothing manufacturing industry and felt I was well placed to help Claire achieve her future growth ambitions."

Ben Hawley, Business Advisor, Launchpad said:

"Claire and her team have had an amazing start to their business journey and securing an investment from the Dragons is a just reward for the tireless work and dedication she has devoted to her business. Her success story to date is something which I hope will not only inspire others to believe in their business ideas, but also help to showcase some of the genuinely unique and truly amazing work which is being undertaken by business savvy entrepreneurs throughout the Sheffield City Region."