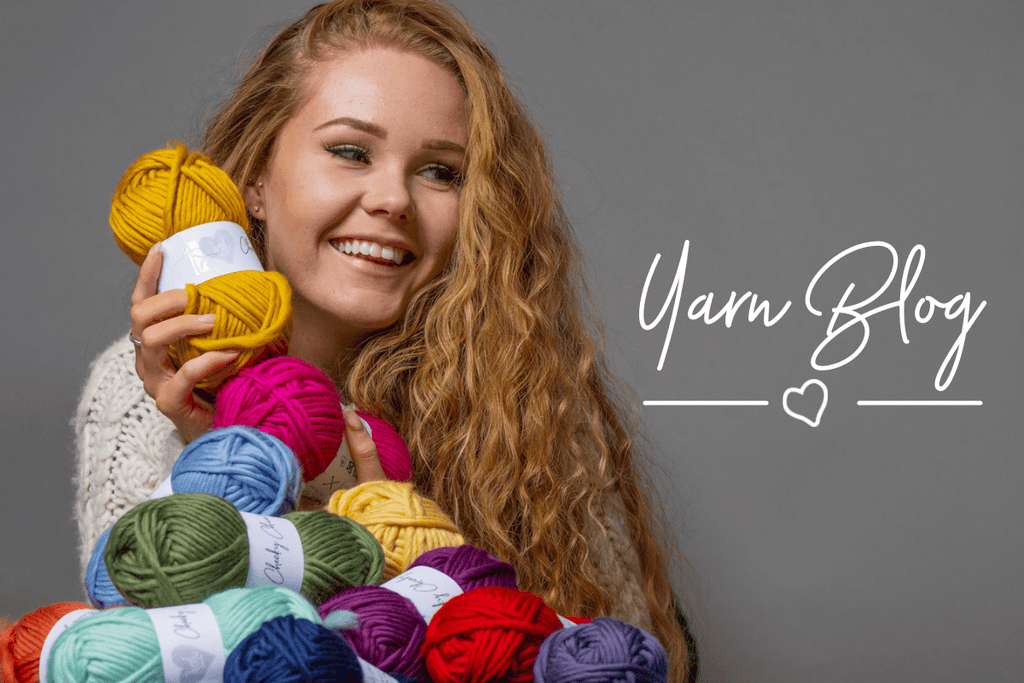 Our yarns are a great combination of textures and colours suitable for beginners and pros alike. Take a look!
Cheeky Chunky 
Manufactured in Yorkshire, our beautiful Cheeky Chunky yarn is the super comfy, single ply yarn of choice. We love using it to make anything from super soft blankets to festive Christmas decorations. Our Cheeky Chunky yarn is made from 100% merino, non-mulesed wool. One of the big reasons we chose merino wool was because it is biodegradable and renewable; every year a sheep grows a new coat! Merino wool is also an active fibre that reacts to changes in your body temperature and environment. Not to mention, it is also made from super-fine fibres, making it soft next to your skin!
Why not take a look at our cheeky chunky yarns here.
Utterly Aran
Manufactured in Spain, our Utterly Aran yarn is made from a blend of cotton, polyester, acrylic, silk, linen and recycled fibres. This combination of fibres creates a gorgeously fluid material that is a delight to wear. A medium weight yarn, our aran is great for a wide range of projects from blankets to mittens and scarves. 
Why not take a look at our Utterly Aran yarns here.
Beau Baby
Our Beau baby yarn is great for those little one knits where softness and practicality are key. A combination of acrylic and merino wool, this yarn is machine washable and luxuriously soft. We are proud to be working with a local Yorkshire mill to produce our very own Beau Baby yarn, it's all dyed, spun and finished in Yorkshire.
Why not take a look at our Beau Baby yarns here.
Epic Extreme
Wool Couture's Epic Extreme pure merino yarn is perfect for giant knitting, arm knitting, extreme knitting and chunky knitting. Much like its Cheeky Chunky brother, our Epic Extreme yarn is made from 100% merino, non-mulesed wool and manufactured in Yorkshire. This un-spun merino is great for making massive blankets, chunky scarves and rugs.
Why not take a look at our Epic Extreme yarns here.